Another favorite at Spuds.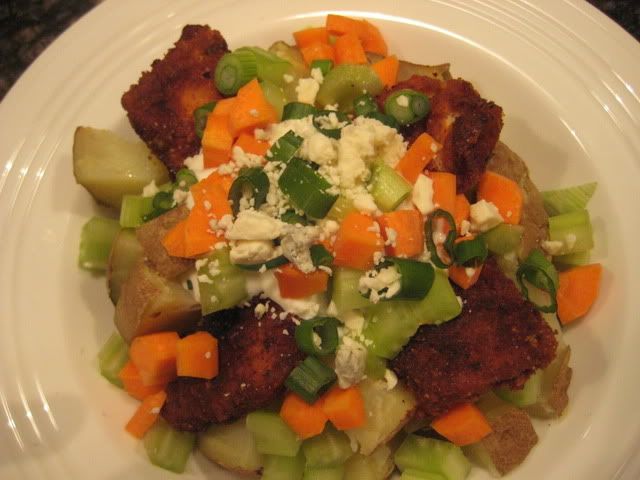 4-6 chicken tenders, cut in halves or thirds
1 egg, beaten
flour
Italian seasoned breadcrumbs
Vegetable oil
1 large carrot, cubed
2 celery ribs, cubed
Green onion, chopped
2 large Russet potatoes
4 Tbsp sour cream
2 Tbsp Ranch dressing
1 Tbsp blue cheese crumbles
Frank's RedHot
Salt
Pepper
Preheat oven to 425 degrees. Scrub potatoes clean, pierce holes with a fork and bake for 45 minutes.
Season chicken with salt and pepper. Coat chicken tenders with flour, then egg and lastly breadcrumbs. In a large frying pan over medium high, heat oil until it starts to ripple. Fry breaded chicken until golden brown and chicken is cooked all the way through. Remove from heat and place on a plate with a paper towel, to absorb excess oil.
In a medium bowl toss fried chicken with Frank's RedHot.
In a small bowl, mix sour cream, dressing and blue cheese.
Score baked potato; press both ends together to open up. Top with sour cream mixture, chicken, veggies and extra crumbled blue cheese.