I made these for my boss's and my neighbor's Birthday day and they were a hit! I like how you can see the specks of orange zest in the frosting along with the orange flavor throughout.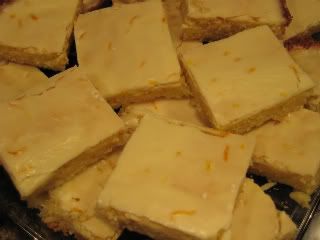 Recipe courtesy Paula Deen
Ingredients
•1 1/2 cups all-purpose flour
•2 cups sugar
•1 teaspoon salt
•1 cup (2 sticks) butter, softened
•4 eggs
•2 teaspoons pure orange extract
•1 teaspoon grated orange zest
Glaze:
•1 cup confectioners' sugar
•2 tablespoons orange juice
•1 teaspoon grated orange zest
Directions
Preheat oven to 350 degrees F.
Grease a 13 by 9 by 2-inch pan and set aside. In a mixing bowl, stir together flour, sugar, and salt. Add butter, eggs, orange extract, and orange zest and beat with a handheld electric mixer until well blended. Pour batter into prepared pan and bake for 30 minutes, or until light golden brown and set. Remove from oven and pierce top of entire cake with a fork.
Glaze:
Combine all ingredients in a bowl, stirring until smooth. Pour glaze over cake. Cool cake and cut into squares.
Helpful baking hints:
I'm not a huge fan of baking mostly because I don't like to follow directions closely when cooking, which is a must in baking, but here's what I learned (the hard way):
1. Softened butter doesn't mean melted butter. It will mess up the recipe. Don't try to melt your butter in the microwave, instead take it out of the fridge in the morning and leave it out all day to soften.
2. If you make these brownies the night before, don't put them in the fridge over-night becaue it will make them rock hard. Instead, just cover them with aluminum foil and leave them out on the counter.
3. Don't try to estimate on ingredients. Measure carefully. If you've had too much wine and are too lazy to measure precisely, it's better to make your recipe the next day. :-)