Around Christmas time, I like to cook with ingredients that are red and green. This is how I was inspired to make this rice pilaf.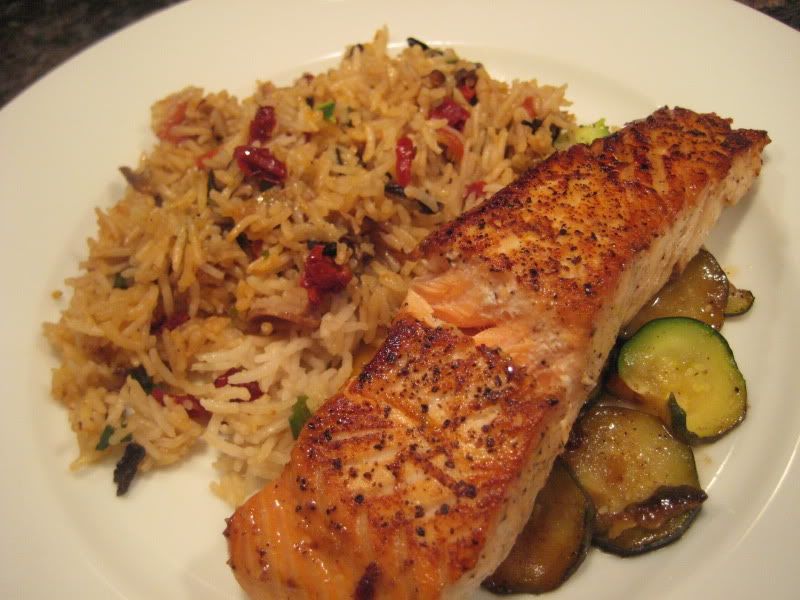 2 salmon filets
Lemon pepper seasoning
1 cup of white, long grained basmati rice
2 cups of water
3 Tbsp dried mushrooms, chopped
2 Tbsp sun dried tomatoes, chopped
1 green onion stalk, chopped
1 Tbsp of red pepper and artichoke bruschetta, jarred
Juice from ½ a lemon
1 medium zucchini, thinly sliced
Sea salt
EVOO
In a rice cooker, add rice, water, a drizzle of EVOO and mushrooms. Cook until almost done and then mix in sun dried tomatoes, green onions and bruschetta. When finished, season with salt, to taste.
In a medium sauté pan, heat EVOO over med-high heat. Season salmon with lemon pepper seasoning and salt. Skin side down, cook salmon for about 5 minutes. Flip fish, turn heat to low, remove skin from other side and drizzle with lemon juice. Cover and cook for a few more minutes, until fish is no longer pink in the middle and flakes easily. Remove from pan.
Add zucchini slices to the same pan and turn heat to high. Sauté zucchini until tender, about 2-3 minutes.
Make a little bed of zucchini slices and top with salmon. Serve with rice.