This is a delicious Czech dish that my mom made for us growing up. They are meat steaks rolled with egg, ham, hot dog and pickle.
1 lb flank steak
Dijon mustard
4 slices of black forest ham
2 hot dogs
2 hard boiled eggs, quartered
2 dill pickles, quartered
red bell pepper, 8 thin slices
paprika
1/3 onion, chopped
¼ cup dried mushrooms
black pepper
salt
Boil the eggs (vejce) until the centers are hard. Tenderize the meat (mäso) by pounding with a meat tenderizing hammer. Cut steak into pieces so when each piece is rolled up it's about 4 inches long. Salt (sůl) and pepper (pepř) the steak and then spread with Dijon mustard. Load each piece of steak with a slice of ham, hot dog (párek v rohlíku), pickle (lák), red pepper and egg (vejce) – two quarters of each, if you have 4 pieces of steak. Roll up each steak with fillings and tie closed with a string (řetězec).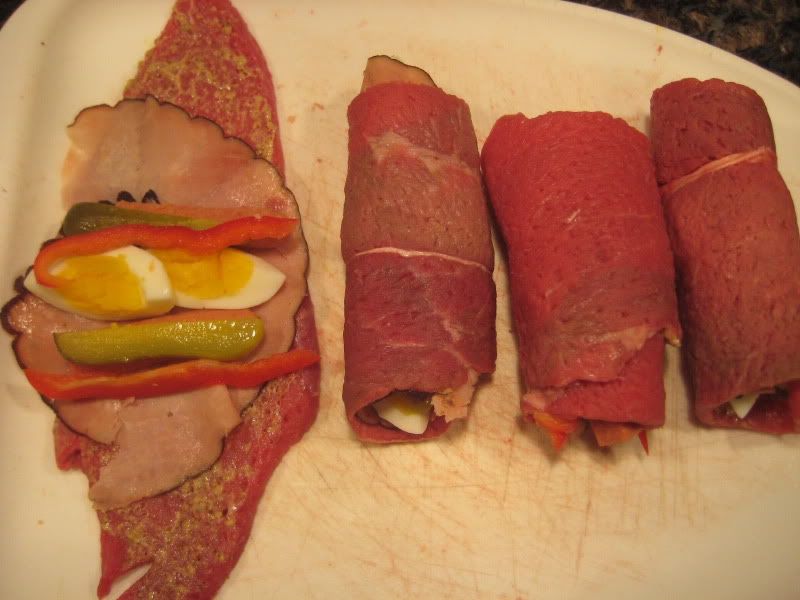 Heat up oil (olej) in a pan and brown each side of the rolls. Remove from pan and add onions (cibule). Stir over med-high heat until soft. Add paprika and stir together. Add rolls back to pan with a little water and mushrooms. Cover and let rolls steam until the meat is done. Add more water as needed.
In about 20 minutes, once the meat is cooked, take the rolls out and remove the strings.
In a blender, add sauce from pan with onion and mushroom bits. Puree and add little bit of flour, to thicken the sauce. Pour the sauce back in to the pan, add the rolls and simmer for few minutes while turning the rolls to cover in sauce.
Serve with rice (rýže) and sprinkle with minced parsley.
Dobrú chuť!